I had been looking forward to being in Cali since the moment we started our round the world trip. All throughout Central and South America we kept hearing that Cali is the place to be for Salsa. We decided we would committ a week in Cali in order to experience as much Salsa in Cali that we could get. Obviously, this was my request and Oscar (being the good man he is) is along for the ride (God bless him!).
Monday
La Topa Tolondra
Cost: 5,000 pesos (less than $2)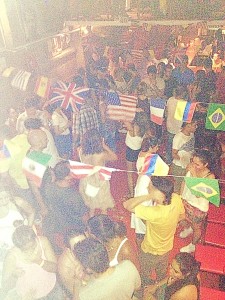 Review: We pulled up to Topa Tolondra in a taxi at about midnight and there was a line out the door. We paid the entrance fee and the moment we entered there was barley any room to walk to the bar because there were so many people on the dance floor. The dance floor was PACKED and it was amazing. We grabbed a drink and headed upstairs so that there would be a little more room on the dance floor. The place has a good mixture of locals and tourists that attend and the dancing style is very diverse. We stayed on the second level for most of the night so that we could actually have a few feet of room to dance and I would highly recommend that if you want a good view of the place and room to dance that you head up there. At about 2am, the place started to thin out a little bit so we moved to the first floor and danced there. By all means, the place was still packed so its not like you could dance anything fancy. I asked a Colombia guy for a dance and afterwards we headed out. If you want to go out on Monday nights, listen to amazing salsa music, and be surrounded by 100 other people who want to dance then head on over to La Topa Tolondra. Dancers, leave your salsa shoes at home and just wear regular shoes or sandals- there is no room for lots of space to dance and you just wont need them. Enjoy!
Tuesday
Los Locos Tuesday, Mazao
Cost: 5,000 pesos
Review:  The hostel that we were staying at suggested that we attend this place for Salsa on Tuesday, so we headed out of the hostel around 10:00pm and arrived in good time to the club. We walked up the stairs and into the establishment and there were tables and chairs outside with a small area inside that housed the DJ, dance floor, and bar. All of the tables and chairs were occupied outside with people playing board games (no joke), drinking beer, and wearing balloon animals on their heads. Oscar and I looked at each other very confused and hoped that the actual club would start shortly. A few hours passed and Oscar and I danced a few songs of Bachata; however there was no increase of people coming into the club or going onto the dance floor. At midnight a few girls who looked to be still in highschool, came around and gave everyone a number and then forced everyone to go into groups to play a game. The game was guess the song and the winners got a small bottle of Aguaardiente. Now, if you are someone that enjoys this type of thing, great- good for you, but for me this was absolute torture. I felt like I was at an awkward high school dance that I actually could have beer at. The moment this game was over, Oscar and I left as quickly as possible. This is not a salsa club. There are very few locals that come here. If you want a place to play board games, drink beer, and listen to salsa music then head on over to this place.
Wednesday
Alalole Salsa Club
Cost: 5,000 pesos (we bargained for this price (originally 10k)
Review: Do not waste your time in even thinking of going to this location whether you are a dancer or just looking for a place to go out. We arrived here a little before 11:00pm and there was not one other person in the place besides the five individuals who would be performing later that night. We stayed for one drink in hopes that more people would show up, but no one did.  We danced a few songs with the performers, but they were not as kind as I had hoped and made it feel like they were doing you a favor in asking you to dance. Dancers- I am sure this has happened to any of you at least once in your life and you know what I'm talking about. No one go here if you don't want to waste your time. This place has been created for tourists, but even they do not go here. Avoid it!
La Topa Tolondra
Cost: 5,000 Pesos ($2)
Review: We returned to La Topa Tolondra on Wednesday after an unsuccessful attempt at the previous location. We arrived around 11:30pm and stayed until about 3:00am. On Wednesday, there a way more locals and less tourists than there are on Mondays. The dance floor was full, but not so full that you could not dance. On this date, I saw a variation of dancing among those on the dance floor; there was cali salsa (cumbia) and  line dancing as they call it here ( on 1 or on 2). If you are  a dancer and you are looking for an opportunity to dance with the locals then skip this place on Monday and just come here on Wednesday because you will for sure be able to dance the night away.
Friday
Tin Tin Deo
Cost: 10,000 Pesos for women, 15,000 for men
(plus payment for beverages at the door of 10,000)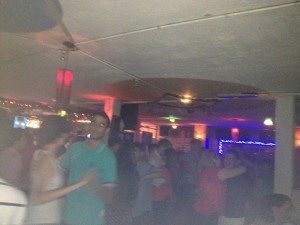 Review: The entire time we were in Cali we kept hearing that Tin Tin Deo is the place for salsa lovers to go. Oscar went on Thursday (since I was sick in bed) and he told me that the majority of the dance floor was tourists and that he tried to find some Colombians to dance with but there were very few. If you are looking for just a place to go with lots of people, then head over there on Thursday night, but if you are a dancer and want to see the way the locals dance then wait until Friday! Tin Tin Deo basically has two dance floors because the staircase separates the two.  We arrived by 10:45pm and most of the tables were already taken, but we were able to grab one in the corner. By 11:30, the entire dance floor was full with a variety of people. There were indeed dancers who were there, but they seemed to hang out in a table that was by the staircase, so if you are looking for dancers stay near the bar area! Since I was still feeling a bit sick, we left a little before 1:00am, but from the small time that we were there this is the place for dancers to be! Dancers, you can bring your shoes or leave them at home, both are acceptable, as I saw a variety of women and men with different shoes.