I am a firm believer in never saying no to free cash or gift cards when they are available for the grabbing, especially when traveling and funds are budgeted aggressively! If you are like me in that sense, and don't mind a few detailed tasks then this post is for you! I have summarized and explained 5 apps that I have personally been using to earn cash and giftcards while traveling.
I have used the cash that I have earned from these apps to fund some of the following travel adventures: renting a surfboard in San Juan Del Sur, Nicaragua, buying pad thai and fresh smoothies in Chiang Mai, Thailand,  paying for an entrance to a salsa club in Buenos Aires, Argentina, and so many more! Start using these apps today and you can earn more cash towards your travel fund or even extra cash while you are traveling!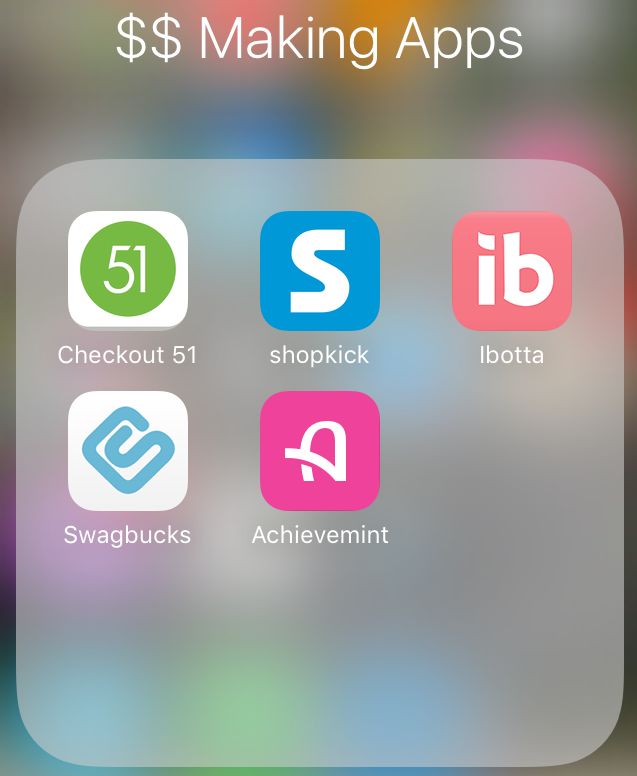 Swagbucks
Swagbucks is an App that you can download on your phone, as well as a website that you can use on your computer. This website is a great way to earn money by answering surveys (I once won a $100 giftcard to Starbucks for answering a survey!), watching videos, checking out webpages, taking polls, and buying your every day needs! So far, I have aggressively been using this app for the past couple months and I have earned $300 so far (that is equal to 30 nights at a hostel in Nicaragua!). I have earned points by having videos run on my cell phone while I am doing other things such as cooking or getting ready in the morning,  answer surveys that I am qualified for on various products such as food, travel, health, alcohol, and I even earn points when I use the site to book my travel needs through various websites! I have read several blogs, and spoke to many people in various Facebook groups and there are people out there that can make $10,000 a year using this site!
The site uses a point systems, much like many other apps, and every 100 points equals $1. I usually save up to 2,500 points and then transfer $25 to my Paypal account. The site also offers gift cards that you can purchase using the points as well, but I personally always prefer to receive cash!
My goal this year is to earn at least $25 a week, which at the end of the year will equal to at least $1,300. That equals to about four flights round trip to Cartagena, Colombia or 85 nights at a hostel in Argentina! It seems like only a little bit each week, but it does adds up at the end of it all!
If you are interested in earning extra money simply by having videos run on your phone and answering surveys, then click here to sign-up today! For those who are currently traveling abroad while using this app, I suggest that you invest in a VPN because it is a USA company and it is strict about international use. Just a little tip I have picked up while using it!
Click here to start earning cash today, and by using this link you get 300SB just for signing up! If you do end up signing up, I would be happy to share with you additional tips I have learned along the way- just comment below!!
AchieveMint
This app is an extremely easy way to earn some extra cash without having to do anything you're not already doing. All you have to do is download the app by clicking here, enroll and sign-up, and connect the other health apps that you are already using. I have been an avid user of MyFitnessPal for several years and so it was easy to start earning points immediately with the app! Each time that I log my food, exercise, or weight change I earn a certain number of points to the total amount. You can also earn points by taking surveys sent to your e-mail and inviting other friends to make money too! Once you reach 10,000 points, then you redeem it for $10 (That is 20 Pad Thai meals in Thailand!)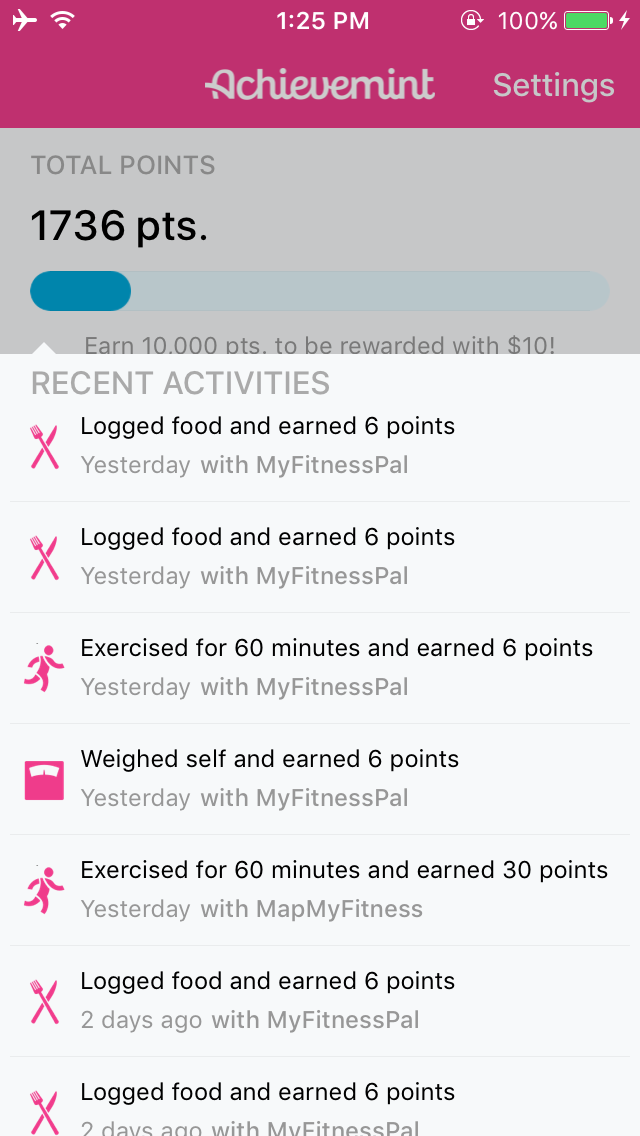 Click this link to start earning money for being healthy today! You can start by downloading the app on your phone, or signing up on your computer!

Checkout 51
I had installed this app on my phone a couple of years ago, and completely forgot about it until right before heading off into the road. This app is best used in the United States and may not show offers while abroad. The idea is simple. You do your normal grocery shopping. Buy your apples, grapes, favorite cereal, eggs, or whatever and you save your receipt. I repeat. Save your receipt! Once you get home (or even before you head to the store), you can open the app and check out what offers you can get money back on. I usually always have at least one produce item that I can get money back on each week.
All you have to do is choose the items that you wish to redeem for cash, and then you take a picture of your receipt, and submit it! I would recommend that you keep the receipt until you receive the success e-mail from the company in your e-mail or push notification. Once you reach $20, you can request a pay-out and a check will be sent in the mail.
Click here to sign-up today and download the app!
Ibotta
This app is similar to Checkout51, but there are so many more items you can receive cash back on! You can receive cash back on items bought at stores such as Stop and Shop, Best Buy, Target, and even the Dollar Store! There are over 50 stores and 20 categories that you can search through to receive cash back. Download the app by clicking here and start today!
Once you have the app download, all you have to do is search by category or store, and click the items that you have purchased and want to receive cash back for. Once you choose to submit your receipt, you will have to upload a photo of the original receipt, click the items, and at times you will also have to scan the bar code of certain items that you have purchased. For example, if you are redeeming cash for an apple there will be no bar code to scan, but if you purchased Chobani yogurt you will need to scan it.
This is a must have app if you do any shop at all. If you don't use this app, you are actually throwing money away! For example, just this last week I bought Pop Chips at PriceRite for $1.50. The app offered $3.50 for redeeming the coupon on it's app. I received a free bag of chips and $2! No way I can say no to free money!
Once you have reached $20 you can redeem the cash via PayPal or Venmo or even choose among the many gift cards that they offer as well!
Click here to download the app or register on your home computer and start getting cash back today!
Shopkick
Shopkick is such an easy app! All you have to do is download the app here, turn on your geolocater, and you are ready to go! The concept of the app is simple. You accumulate a certain amount of kicks (ex: 2,500 kicks equals $10 gift card) by walking into certain stores, scanning products in a store, or having the cashier scan the bar code in the app when you purchase items at certain stores. I earned 50 kicks just for walking into BestBuy!
Imagine you are in a shopping area that has several stores in the app, you can earn 1,000 kicks easy each day! The kicks can be redeemed each day (ex: walk into Best Buy everyday for one week and you receive 350 Kicks). If you do that for a little under a month, you have earned yourself a free gift card to a select amount of stores!
Download the app here and start earning money for simply doing things you are already doing: walking and shopping! You'd be a fool not to accept free money!
I hope these apps are as helpful as they have been for me! If it's free money, why not take the few minutes or even seconds to complete a simple task and get that cash! Happy Travels everyone and comment below if you have any questions or comments below in regards to any of the apps! Click on the sign-up links below and start earning that travel cash!