As a traveler, the locations where you sleep are a large contribution to the experience you have in any location. When you live out of a backpack you begin to miss a place to call your own, space where you can throw your belongings, a bed to relax in after a day of walking, and room to just stretch out. Thus far we have had overall good experiences in the locations we have stayed, but that has come from a good amount of research on our part and recommendations from other travelers. If you are traveling yourself, I hope this information will help you to pick your next temporary home away from home!
Belize
Caye Caulker
AirBnB, Bay Breeze Apartments
Cost: $30 a night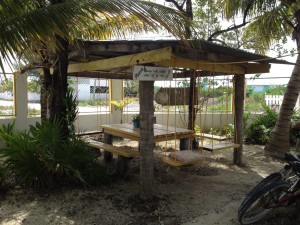 Review: This was the first location that we booked on our tour and therefore we booked it quite in advance and made sure that it had everything that we needed. This is located away from the main touristy areas on the island; however it was really nice being tucked away in the back of the island because it gave us a chance to see a lot of the island that we probably wouldn't have seen otherwise. This place comes fully equipped with what you need to cook at the apartment, has a rooftop area to watch the sunset, and it comes with two bikes per apartment (which we used every single day). Hilda, the owner, is the principal of the only school on the island so everyone knows who she is and where we were staying when we mentioned it. Highly recommended!
Guatemala
Flores
Los Amigos Youth Hostel
Cost: $8.50 for a single dorm bed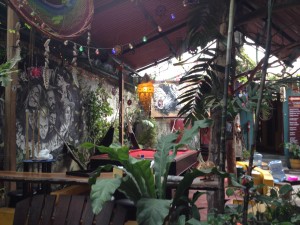 Review:  We picked this hostel because it was the hostel that constantly came up when we searched for Flores (lame, i know). As it was our first hostel we were not very used to looking for the signs of a good hostel. This place was nice and was set up as a big garden with areas to hang out. The dorm rooms were decent with one fan to share with a room with 10 beds. The hostel has a restaurant, hot showers, bar area on the third floor, pool table,  and lots of available tours. If you are looking for a social scene then this would be the hostel for you. The only complaint we had about this hostel is that there were cockroaches in our room (we killed two, and by we I mean Oscar) and when we told the front desk they responded with "yeah, we know, but what can you do". As a place of business you would like they would be more proactive when receiving a complaint. If you do end up staying here, the prices for the tours are a bit pricey and all of the tours and transportation we got we were able to find for a lower price in the area.
Semuc Champey
Utopia Eco Lodge
Cost: Dorm $8.50, Hammock $4.50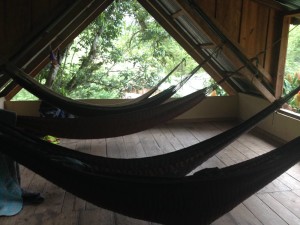 Review: We stayed in the dorms as well as slept in the hammocks. We originally wanted to just sleep in the hammocks; however they were fully booked the first night we were there (they are pretty cheap). The dorm was clean, but a bit loud at night because everything is pretty much is open air, just like the picture. The hammocks were comfortable, as long as you had something to cover yourself with and make a pillow out of a sweater. The lodge had its own restaurant which I thought was a bit overpriced. The dinners were 50Q and Oscar and I had been used to spending 20Q for the both of us in Flores so we were a bit taken by surprise with that. If I stayed here again I would make sure to bring some snacks or make my own sandwiches ahead of time to save money. The staff was very helpful, the location was beautiful, and there were so many extra things to keep you busy (books, happy hour, games, tours, tv with DVDS and gaming). You will most likely see at least one tarantula walking around the hostel; your'e nestled in the jungle so what do you expect. 🙂
Antigua
AirBnB, Casa Del Sol
Cost: $15 a night for two people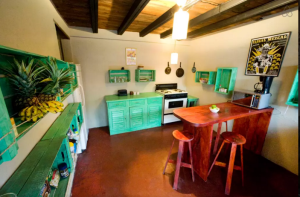 Review: This is one of our favorite places that we have stayed thus far. When we booked the location we did not realize how it was set up, but were very thankful for it! There are 8 different individual rooms, a shared kitchen and lounge area, and two shared bathrooms. The bedrooms consisted of a desk with a lamp, bookshelf, and depending on the room a nightstand. The location is impeccable as it is about a 5 minute walk from the center of Antigua and is in a very safe area with lots of restaurants, bars (the famous Cafe No Se is near), and shops. We originally booked this place for only two days, but after being in Antigua and at this airbnb we booked for the rest of the week and stayed for 7 days! Our favorite part of the house was how organized the kitchen was and all of the equipment that was provided. If you are able to get your hands on a night at this place, you are lucky! Enjoy!
Nicaragua
Leon
Sonati Hostel
Cost: $6 a night for a single dorm bed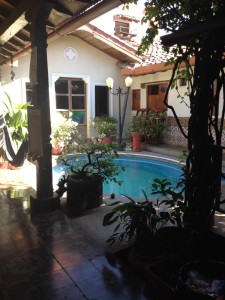 Review: We booked Sonati as we were on the bus from Guatemala to Leon and we are so lucky that we found it. We walked into Sonati and our ears were immediately filled with Nicaraguan music being played and locals seated everywhere. The hostel was raising funds for a local community event and the event was going on for just about two hours. Sonati was a very clean hostel, friendly staff, impressive initiatives for the community, and a quiet place to actually get some rest after a day in the heat of Leon. We loved the pool in the middle of the hostel and used it quite often to cool down from being in the sun all day. If you are looking for somewhere in a good location and that is not a party hostel, this is the place for you!
Las Penitas
Sol y Mar Bed and Breakfast
Cost: $20 for one private room and bath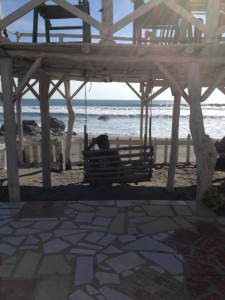 Review: We chose to venture away from AirBnb and the average hostel and to stay at a Bed and Breakfast that was recommended to us by a travel blog I had found searching the web. The location has a bit difficult to get to as not many locals knew where it was or had even heard of it. When we finally did find the location, we checked in to our room, and experienced for the first time the average Nicaraguan customer service. We learned later from other blogs and talking to locals that tourism is relatively new to Nicaragua so tourists will not receive the same customer service as they might in other countries they visit. The Bed and Breakfast was nice and clean and had a great location on the beach with great seats to watch the sunset and stare at the waves. We only stayed there one night as there was not a lot to do in the area and there was no WiFi, which we desperately needed in order to plan our next few weeks. There is no website so you have to go to the location in person or e-mail them here:  If you are looking for a quiet place to get away from it all, then this is the place for you.
Las Penitas
Surfing Turtle Lodge
Cost: $12 for single dorm bed in upper room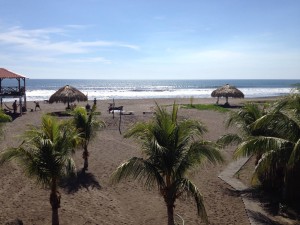 Review: We never planned to come to this hostel, but arrived out of necessity. After our first night in Las Penitas we realized we did not have enough cash and would need to head to an ATM. We asked around and were told by multiple people that there were no ATM's (cajeros) in Las Penitas. Leon is 20 minutes away from this town and out of pure laziness and time we decided to head to the Surfing Turtle Lodge because we read on their website that they accept Credit Cards. The journey to get there has several steps (bus, boat, donkey cart, and then walking), but in the end it is totally worth the journey. The lodge is located right on the beach and is the only thing in the area. They provide surfing lessons (although I personally think the waves are way too big to learn on), volleyball competitions every day at 4:00pm (winners get a free drink), life size jenga, ping pong, slack line, hammocks all over the lodge, and group activities every night (we played a scavenger game one night). We had an amazing time at this location relaxing in hammocks, playing games, and meeting so many great people from around the world. This place is a paradise in Nicaragua so if you get a chance, head on over there!
Managua
AirBnb: Casa De Inti
Cost: $25 a night for a private room w/ private bathroom for two people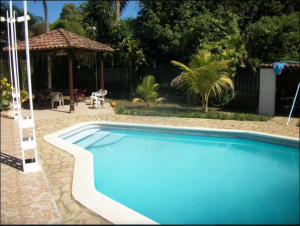 Review: This location is a hidden gem in the city of Managua that we were just lucky enough to find. The house is beautiful and has several different rooms with a shared kitchen. The owner of the house lives there as well and is always available to help with anything the guests need; he even joined us one night at a salsa club! The house is beautiful and is located in a very nice neighborhood with a few shops and restaurants. If you are trying to save money on food, I would recommend heading to the grocery store instead of eating at the local spots in the neighborhood because they can be quite expensive. I have only good things to say about this location and whenever we do return to Nicaragua (hopefully for our cousins' wedding) we will be staying with Inti! Ps. The pool is AMAZING.
Granada
Oasis
Cost: $22 for private room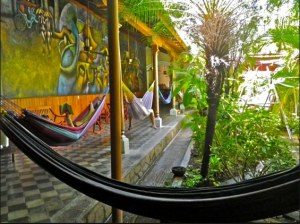 Review: This hostel was recommended to us by several other backpackers that we had met during our time in Las Penitas so we headed straight there once we got into Granada. The majority of the time spent in Granada was lying in bed because we were both extremely sick with fevers so we didn't have a chance to see a lot of the city. However, I was completely satisfied with the hostel and it was a good place to be during our time of sickness. The hostel has free breakfast in the morning (bananas, tea, coffee, and pancakes), a pool, hammocks, and a lounge area with lots of DVDs to choose from. The hostel was social if you wanted it to be and also a quiet place if you wanted it to be as well. Its location is right in the middle of the markets, near the bus station, and close to the center of the city. I would definitely recommend this place to any backpackers as it has been recommended to us by all backpackers that have gone to Granada.
San Juan Del Sur
Yajure Surf Hostel
Cost: $10 for dorm with AC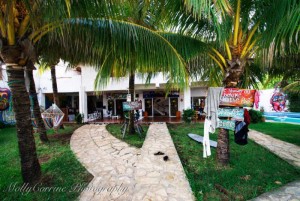 Review: We chose this location because we were looking for something that was not a complete party hostel. The website advertises that it is on the beach; however its not as one would expect as its quite a distance from the water and is just located near the sand. The directions on the website describe a red bridge as a focal point to the find place, however about 6 months ago the bridge was destroyed but they never took the time to update their website. The hostel itself is very beautiful and has a ping pong table, TV with DVDs, a large pool, and a great hangout area. The website advertises breakfast is included, but that really translates into toast. I think could have had a better experience if we were staying with a larger group of friends; however since it was the two of us we didn't enjoy it quite that well because it turned out to be more of a party hostel when that was not what we were looking for. Additionally, the location is pretty far from most of the in-town restaurants, stores, and bars so its about a 15 minute walk each day to get to something.
San Juan Del Sur
Mama Sara's House
Cost: $18 for two people for one private room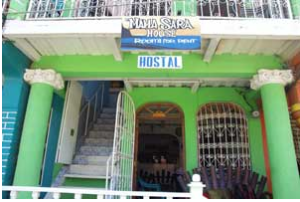 Review: We came across this location just out of pure luck while we were walking around the city. We already knew that we did not want to continue our stay at Yaujana Hostel  and that we needed something a bit more private. When
we arrived to San Juan, we did not know how long we would be staying there, but once we got comfortable at Mama Sara's House we kept extending day after day for a total of 5 days in her home. The private room was equipped with a fan over the bed, armory to store cloths, a night stand, and shelves attached to the wall. It was so nice to be able to take things out of our backpack and put them away for the five days that we were there. The owner of Mama Sara's (which I assume her name is Sara, but I always forgot to ask-oops) was one of the sweetest women I have ever met. She made us feel very welcome from the beginning to her location, brought us ice cold lemonade while we moved in, and each day would give us a snack or a complete lunch. The kitchen and lounge area were small, but the overall location was small so it never felt like there were too many people in one place. The patio has several chairs and provides a great location to watch the sunset and to see a bit of the ocean waves. I would highly recommend any type of traveler (backpacking or not) to stay in this location for a budget friendly time in San Juan.
Panama
Panama City
Mamallena
Cost: $12 for a single dorm bed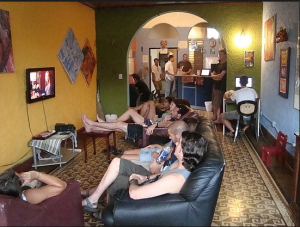 Review: We booked this hostel  during our 24 hour bus ride from Nicaragua to Panama city after doing some research online. The hostel was located in a good area and it was very easy to walk around the city. The staff was very helpful and they have tons of signs up of places to visit, what to do, and where to eat. Most of the information is in Spanish, but I am sure if you asked a staff member they would be happy to help. The dorms were clean (with AC) and there were plenty of showers and bathrooms in the hostel that you didn't have to wait a long time for one. The lounge area was pretty impressive from what we have seen at other places and consisted of an area in the front with a TV with tons of movies and a large couch. There was also a large lounge area in the back with tables and two large couches. The only thing I did not like about this place is that there were several cats in the place and it drove my allergies nuts. I spent the second night there with my eyes burning and sneezing left and right. I wish hostels would put on there website if they have animals in the hostels, but thats just a personal preference for me since I am allergic to cats.
Happy Travels! I hope my reviews will help other travelers to pick the right location for them.