I am head over heels in LOVE with Thailand. Thailand has all of my favorite things: beaches, elephants, and delicious and cheap FOOD. I love FOOD and it is a scientific fact that it tastes better when its a great deal (okay that's just my personal opinion haha). Thailand in general is a CHEAP destination to head to, but if you are in Bangkok for a few days and really looking for the best places to find the cheap eats, I suggest you try Pier 21 Food Court, local street food, Chinatown, and the floating Markets. You won't be disappointed and your wallet will thank you!
Pier 21 Food Court
Pier 21 is located inside the mall Terminal 21. I know I know, you must be thinking to yourself, why is this chick recommending me to go to a food court when I am in Thailand?! Trust me, you will not be disappointed! This is where you will be able to see where the people of Bangkok go to eat. If you head over during lunch time you will see swarms of students laughing together, men and women dressed in business attire, and the few families who are controlling their children from throwing noodles around. This is the place to eat during lunch time in Bangkok. Once you get to the food court, its simple. You head to the card counter and you give an allotted amount to the women working at the counter, which they will then put on a card for you. I recommend putting between 50-100 Baht to start with, but no matter the amount you will be able to get the money you did not use returned to you at the end.
Once you have your card in hand, I would recommend walking around the food court several times before making a decision because there are a lot of stalls to choose from! Once you have set your eyes on what you want to eat, all you have to do is tell them the name and hand over your card. The workers at each station will subtract the amount and give it back to you. Don't be surprised when you end up spending less than $2 for your entire meal- it can be done! Once you have stuffed yourself silly, don't forget to return to the card counter to get your unused amount back in cash! I would also recommend walking around the mall after you have had your meal as it is one of the most impressive malls I have ever seen! The mall is set-up like an airport. Each floor is labeled as a different destination (Paris, Amsterdam, Istanbul, etc.); even the security guards are dressed up as pilots! Oh, and just a little insider tip- make sure you check out the bathrooms at this mall; they are one of the most hi-tech toilets I have ever seen!!
Floating Market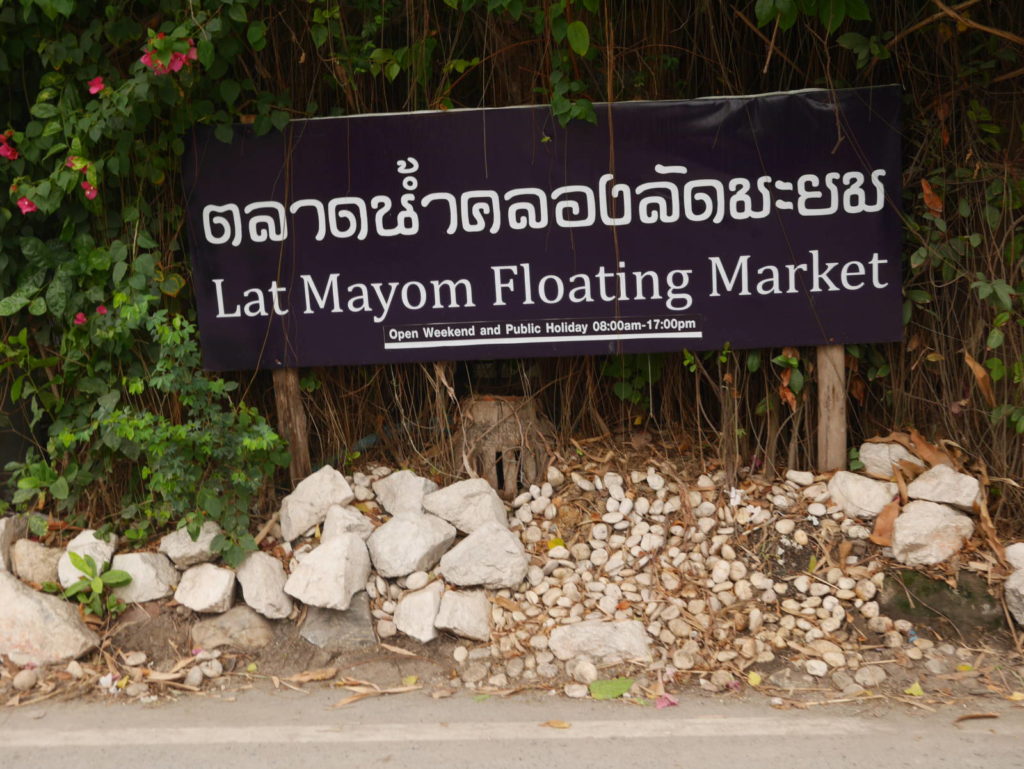 Floating Markets are a goldmine for cheap and delicious food! In Bangkok there are five floating markets, however we were able to just enjoy one: Khlong Lat Mayom. We chose this market because it was a little less touristy, more off the beaten path, and a lot of blogs that I read previously stated that not many tourists make it out there so if you do go you'll be among the locals. This was 100% true! We probably only saw one other small group of tourists in all of this area.
We took a cab out to the market, which did not cost too much and began our way through the maze of stalls. When you first step into the market you are hit with such powerful smells that you will want to consume everything you see, trust me! I was at first so overwhelmed with all of the food and how cheap it was that I had to take a few laps around the stalls to decide what I wanted to eat. You can find anything from the traditional Pad Thai and sticky rice to some of the not so popular items that I have posted some photos of below. Once you have stuffed your belly full of delicious Thai food, hop onto one of the small boat tours for just 20 Baht (that's 58 cents!) and see the local area. It's amazing!
Chinatown 
In most large cities, there is usually a Chinatown where you can buy cheap goods and the obvious Chinese food, but if you head over to the Chinatown in Bangkok you will have a world of cheap food at your disposal. I recommend that you skip the standard restaurants that have menus, bright lights, and air conditioning and instead grab one of the tables in the streets and order away! Usually these "restaurants" cook right on the street and have a limited menu. We went to one that served mainly seafood options and between four of us we spent less than $15 for beers, two servings of a large fish, soup and rice. It was  a steal for four people and the food was amazing!
Street Food
Street food is usually one of the cheapest ways to eat in most cities, and Bangkok does not disappoint! The street food in Bangkok (and most of Thailand) varies from noodles to fresh fruit smoothies to fresh squeezed juices to meat on a a stick to ice cream! You can find anything  your stomach may be craving while you are walking the streets of Thailand. My absolute favorite find was the ice cream stand that was serving up delicious vanilla goodness in a coconut! My taste buds were in HEAVEN.